Introduction
At Whitgreave, we have achieved the BDA Quality Mark! We strongly believe that by implementing the actions to support our Dyslexic children, we can benefit all learners within our school.
I am the school SENCO (Special Educational Needs Coordinator) and am driving the staff and pupils towards achieving this award. If you have any queries or concerns about your child's learning or progress, then please feel free to contact me – I'm more than happy to help.
Mrs Merrick
Signs of Dyslexia
If you suspect your child may be Dyslexic, there are many signs to look for. School staff are regularly trained on these signs too.
If we (or you) believe that a child may be Dyslexic, then you will be asked to fill in the following document for us (Dyslexia Checklist). The child's Class Teacher will also be asked to fill it in too, to enable us to gain a rounded view of the child. We will then discuss our next steps once we have analysed the answers that have been provided.
What is Dyslexia?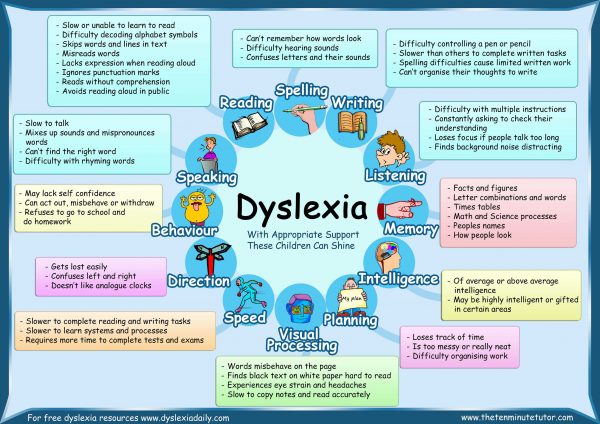 Dyslexia is known as a SpLD. Specific Learning Difficulties (or SpLDs), affect the way information is learned and processed. They are neurological (rather than psychological), usually run in families and occur independently of intelligence. They can have significant impact on education and learning and on the acquisition of literacy skills (BDA – 2016).
Dyslexia is a hidden disability thought to affect around 10% of the population, 4% severely. It is the most common of the SpLDs. Dyslexia is usually hereditary. A student with dyslexia may mix up letters within words and words within sentences while reading. They may also have difficulty with spelling words correctly while writing; letter reversals are common. However Dyslexia is not only about Literacy, although weaknesses in literacy are often the most visible sign. Dyslexia affects the way information is processed, stored and retrieved, with problems of memory, speed of processing, time perception, organisation and sequencing. Some may also have difficulty navigating a route, left and right and compass directions. (BDA – 2016)
Please watch the video here
What should I do if I think my child is Dyslexic?

Please be aware that we are proactively working towards identifying Dyslexic children within the school. Therefore, upon entry to our school, we intend to use a program created by Nessy (Dyslexic specialists) to screen the Year 3 pupils. It is set out as a series of online games, and questions the children in the following areas:
Visual Word Memory
Auditory Sequential Memory
Visual Sequential Memory
Processing Speed
Phonological Awareness
Working Memory
The results will then let us know if there is a possibility a particular child may be Dyslexic. It will not give a definite yes or no answer. If any child has results that show Dyslexic tendencies, school will contact you as soon as possible to discuss the next steps.
If any other learning needs are identified, they will be monitored and acted upon by the Class Teacher and myself at the earliest opportunity.
If you have any questions, or would like any further information, then please don't hesitate to contact me.
As part of the process, your child's Class Teacher will be asked to contribute to our discussions. The process can be shown below: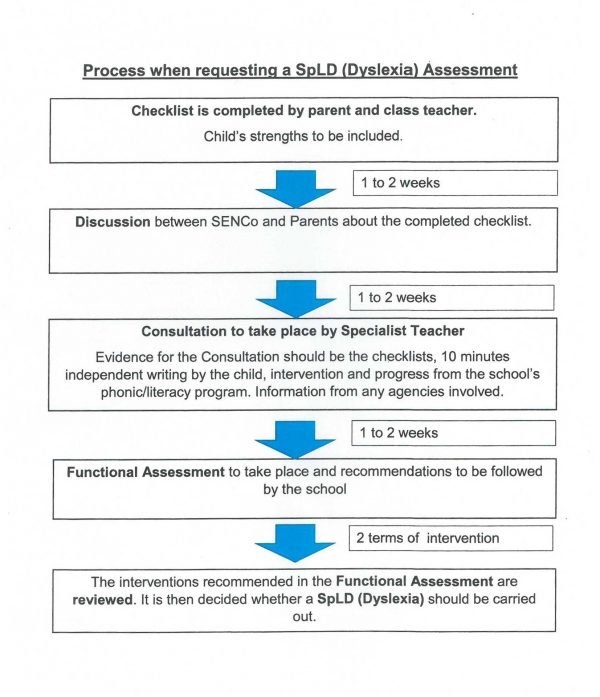 For further information
http://www.bdadyslexia.org.uk/
http://www.youngminds.org.uk/for_parents/worried_about_your_child/dyslexia_dyspraxia
http://www.nhs.uk/Conditions/Dyslexia/Pages/Introduction.aspx
http://www.dyslexiaaction.org.uk/
Did you know
Yes, having Dyslexia, can cause huge problems in the classroom as a child has so many barriers to overcome. However, many Dyslexics have strengths that others do not! Children need to be taught that Dyslexia is not an excuse, but something that they can be proud of!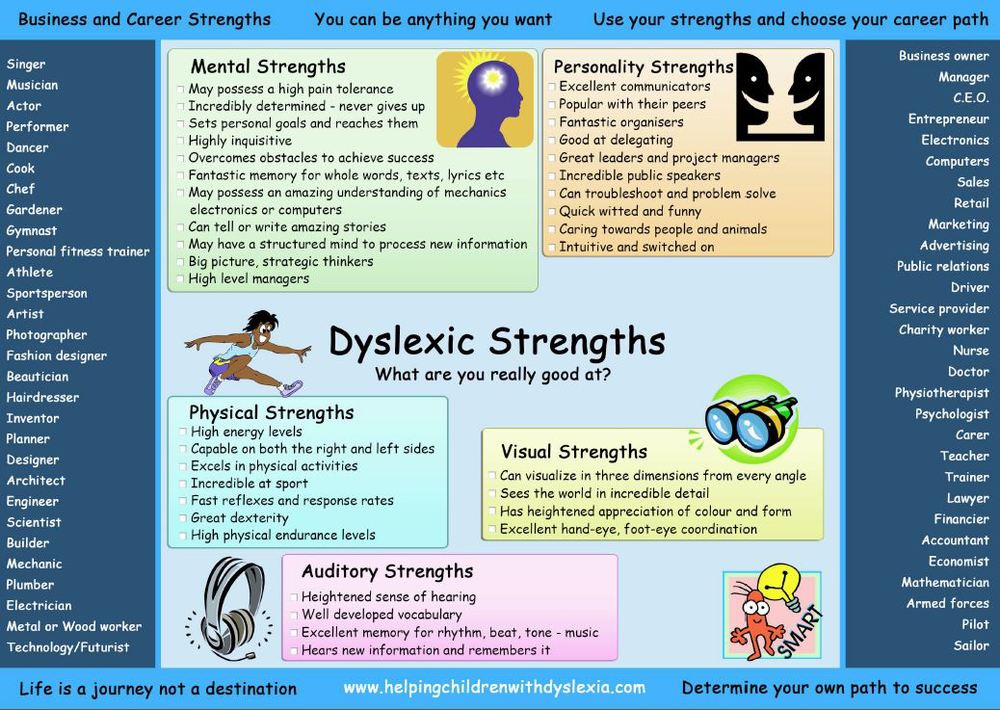 Dyslexia is the most common cause of childhood loss of self-confidence. It can lead to misery and depression. Sometimes the frustration leads to vandalism, violence and criminal behaviour. Dyslexia accounts for a majority of school children with special educational needs and is by far the commonest cause of disability among University undergraduates.
Click here to watch My Dyslexic Mind – A Newsround Special
Many well-known, successful people have spoken publicly about their dyslexia, including:
Holly Willoughby
Sir Richard Branson
Johnny Depp
Jamie Oliver
Jennifer Anniston
Keira Knightley
Orlando Bloom
Princess Beatrice
Kara Tointon
Sir Steve Redgrave
Homework hints and tips
The most important thing you can do is to be understanding and supportive. Here's a list of games and activities that we have collated as a school that may help a Dyslexic child.
Click here to see the list
Have a look at: http://www.bdadyslexia.org.uk/parent/homework-tips for more support and ideas
Further resources
Click here to go to the video section